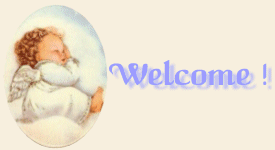 "My Heart Will Go On"
An Angel Is Watching Over Us


Our family has its own special angel, our son who was born with a congenital heart defect called Hypoplastic Left Heart Syndrome. He was diagnosed at 4 days old, and had his first of what would have been 3 open heart surgeries at 10 days old. He underwent that first surgery on May 27th, 1997 and was home in 7 days doing wonderfully!!! After 8 wonderful and uneventful months, he had his second surgery on Feb 4th, 1998. He was home in an unbelievable 3 days!!! He was growing great, and was progressing physically and mentally right on track. Then something went terribly wrong and his life was over in a heartbeat. I was rocking Brendan for his morning nap on April 3rd, 1998 when he just looked up into my eyes, and quietly passed away. We called 911 and they attempted to revive him for about an hour in our living room then they transported him to the hospital ER. They shocked his heart twice and tried adrenaline shots in the heart twice but he never came back to us.
He died in his mommys arms, where he had happily been for 10 1/2 mos. No one knows why.....this wasnt supposed to happen. We were devastated beyond words, not sure of where to go from here. Our beautiful daughter, Jenna, got us through these last 2 difficult years, keeping us very busy and focused. She misses her brother terribly, they were very close. My husband, Jon, and I are working on healing and supporting each other the best we know how. Our children are our world, and our hearts were ripped out the day we lost our beautiful son. We will never be the same after knowing and loving this incredible little boy who overcame so much and was so loved in his short life. He taught us more about life than we ever thought possible, his constantly smiling face showed us how strong he really was in spite of the rough road ahead of him. His life has given us strength, courage, and a rare oppurtunity to experience unconditional love in its purest form. He will forever be missed, he will forever be loved. He will never be forgotten.

Please visit the next page to see pictures of Brendan and Jenna.